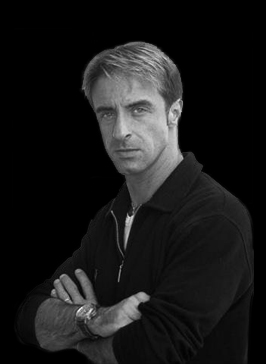 Marco Calzolai, since a very early age was active in the textile industry, taking part of the family business, quickly learning to know and appreciate the various types of threads and workmanship that are part of textile manufacturing.
During the 1980s, frenetic years for textiles/garments, years of constant challenges for the production of new samples, where every day new ideas were born; ideas that with effort and enthusiasm were then applied on the garments produced by the major fashion labels, Marco found natural expression in his own creativity towards innovation, experimenting with textiles that were able to transmit "emotions" because of their uniqueness.
Today Marco Calzolai is a creative entrepreneur who also expresses himself through other artistic fields.
"Le Mani" (Hands) Project

Twelve photographic shots, a text that we can define as poetry... these are the basic ingredients of this work, where Marco Calzolai has tried to give his own interpretation of the symbolism of the gestures that arise spontaneously from the hands he captured in photos, with curiosity and respect, typical adjectives of his daily observation.
Together with each painting, made of fabric with a special technique of his own creation, one can see the original self-portrait done by Marco, so that from the outset, this work is a unique expression and true to his own self.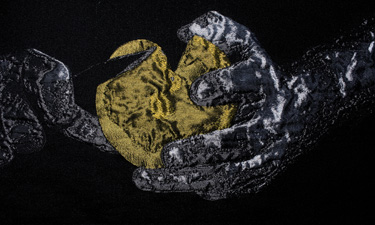 Le Mani
Other projects
Design means enabling a logical process which aims at creating a product through a sequence of choices, and this is what Marco Calzolai does on a daily basis. Furniture fabrics designed "ad hoc" on patterns and custom images, in a wide range of fibres and colours with flame-retardant treatment certified in class 1. Jacquard fabrics created through a new, unique and exclusive patented technology, that allows designer furniture to be harmoniously integrated into the environment.
Visit the photo gallery where you can see a major project, carried out for one of the most important entertainment venues in Italy.